Venue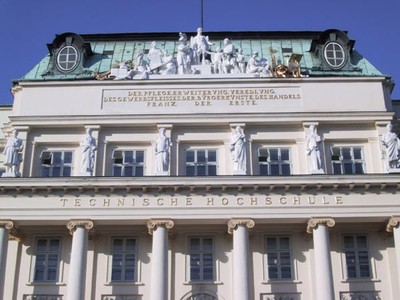 The conference venue is the
Vienna University of Technology
Gußhausstraße 27-29
1040 Vienna, Austria

The Vienna University of Technology is one of the major universities in Vienna, the capital of Austria. Founded in 1815 as the "Imperial-Royal Polytechnic Institute" (k. k. Polytechnisches Institut), it currently has about 17,600 students (19% foreign students/30% women), 8 faculties and about 4,000 staff members (1,800 academic). The university's teaching and research is focused on engineering and natural science.
Vienna

Most people visit Vienna with a vivid image of the city in their minds: a monumental vision of Habsburg palaces, trotting white horses, old ladies in fur coats and mountains of fat cream cakes. And they're unlikely to be disappointed, for the city positively feeds off imperial nostalgia - High Baroque churches and aristocratic mansions pepper the Innere Stadt, monumental projects from the late nineteenth century line the Ringstrasse, and postcards of the Emperor Franz-Josef and his beautiful wife Elisabeth still sell by the sackful. Just as compelling as the old Habsburg stand-bys are the wonderful Jugendstil and early Modernist buildings, products of the era of Freud, Klimt, Schiele, Mahler and Schonberg, when the city's famous coffeehouses were filled with intellectuals from every corner of the empire. Without doubt, this was Vienna's golden age, after which all has been decline: with the end of the empire in 1918, the city was reduced from a metropolis of over two million, capital of a vast empire of fifty million, to one of barely more than 1.5 million and federal capital of a small country of just eight million souls.
Travel

The best way to travel inside of Vienna is by public transport, see this website for details.




By Air
Vienna International Airport (VIE) is located in Schwechat, about 20 km south-east of Vienna's center, see the webpage. At the airport, you can the bus to Südbahnhof/Westbahnhof for Euro 6. It will take you about 25min. Or take one of two railway lines: - Cheap, but slow - railway line S7 (direction Floridsdorf) to the station Wien Mitte, or - expensive and 8 minutes faster - the City Airport Train also takes you to the station Wien Mitte.

Austrian Airlines provides special rates for participants

Book your flights online at www.austrian.com and save 15% on all bookable fares!

To do so, simply enter the following code in the eVoucher/Gutschein field on the Austrian homepage booking-engine: Code: VSMM09
Booking period: now until September 12th, 2009.
Valid for flights to Vienna and return now until September 26th, 2009 (final date for return flight) on OS flight numbers.
By Train
Vienna has two main train stations, Westbahnhof and Südbahnhof.
By Car
If you come by car, the easiest and cheapest way is to park your car somewhere near one of the underground or railway stations at the periphery (make sure you remember where), and use public transport further on. If you want to park at the school venue, please note that parking in the streets in central Vienna during daytime is restricted to residents with a special permit or short periods (you will need a ticket called a "Kurzparkschein" for this).
Useful Links