Welcome to PRIP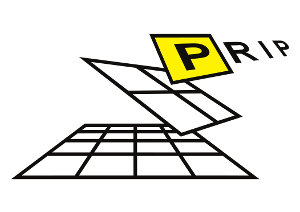 Modern imaging sensors, like digital photo and video cameras, LIDARs, or medical devices measure huge amounts of data day-by-day. Pattern Recognition and Image Processing aims at the extraction of information from such data.
Simple tasks like the detection of human faces are already solved and solutions are commercially available in digital cameras. More challenging applications such as the image-based autonomous navigation or the detection of anomalies in medical images require systems to incorporate some knowledge to enhance the recognition results and to give semantically appropriate interpretations.
Traditionally, such knowledge could for instance include the characteristics of the camera system or the available processing strategies. More importantly, however, recognition results can be improved by incorporating the composition and structure of the environment. Indeed, the information to be extracted from images is closely related to pieces of data from the same environment that gives them meaning.
Unfortunately, it turns out that methods of statistical pattern recognition cannot cope with the image structure well. The methods of deep-learning too are not yet capable of exploiting the structural nature of images.
At PRIP we are focusing on advanced image representations and methods that allow the structure of the image to become an essential part of recognition systems.
---
Publication in Scientific Reports receiving attention.
Deep learning for early detection of pathological changes in X-ray bone microstructures: case of osteoarthritis", co-authored by Jiří Hladůvka and published on 27 January 2021 in Scientific Reports (Nature) is receiving high attention.
According to Altmetric it ranks:
#1 of 57 Scientific Reports articles of similar age (as of April 8th, 2021)
in the top 5% of all research outputs ever tracked by Altmetric
More about the attention scores here
.
---
Best Projects from course Einführung in die digitale Bildverarbeitung (EDBV) WS 2020.
Hall of fame - EDBV WS 2020/21
---
IEEE WIE Best Paper Award @ ACVRW'20.
October 2020: Supervised by Jiří Hladůvka, Verena Renner won the IEEE WIE Best Paper Award @ ACVRW'20 for paper entitled "Towards Identification of Incorrectly Segmented OCT Scans". Congratulations!
---
Water's gateway to heaven.
WWTF Life Science project on Multimodal Imaging, a collaboration of PRIP with...

with BOKU and
and with UniWien
---
Conferences open the doors to show/see newest research
Are you interested in pattern recognition and image processing? Have you ever wondered how it would be like to visit a scientific conference and learn about the state of the art from the researchers in person?
If yes, PRIP-Club supports your active participation. Send your application to Omar Ismail, oismail(at)prip.tuwien.ac.at.
Upcoming conferences/workshops
DGMM 2022, October 24-27, 2022, Strasbourg, France
SCIA 2023,18.-21.4.2023, Levi Ski Resort, Finland
GbR 2023, 6.-8.6.2023, Salerno, Italy
For more information contact us via Email.
Contact: Mail: webmaster(at)prip.tuwien.ac.at | Tel: +43.1.58801.193301 | Fax : no longer available
2014-2020 PRIP,
Impressum
/
Datenschutzerklärung
This page is maintained by Webmaster ( webmaster(at)prip.tuwien.ac.at ) and was last modified on 20. September 2022 14:50